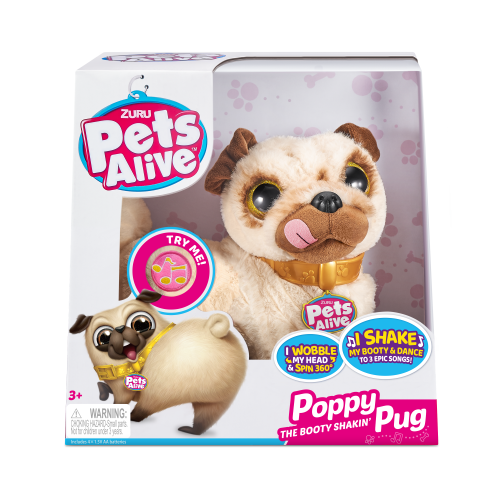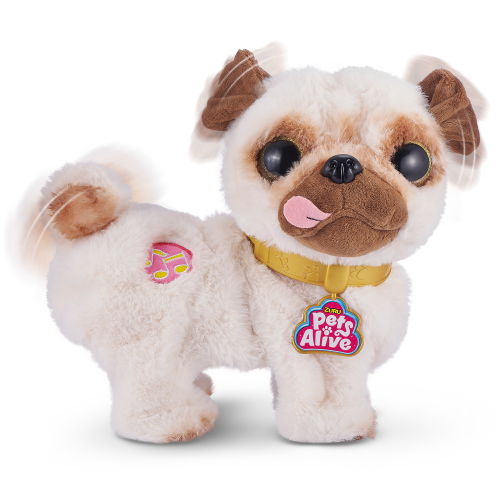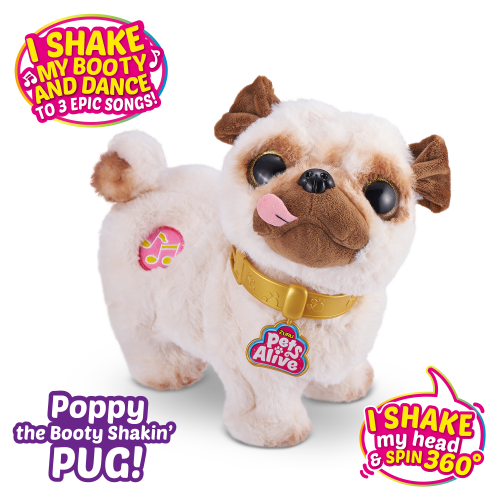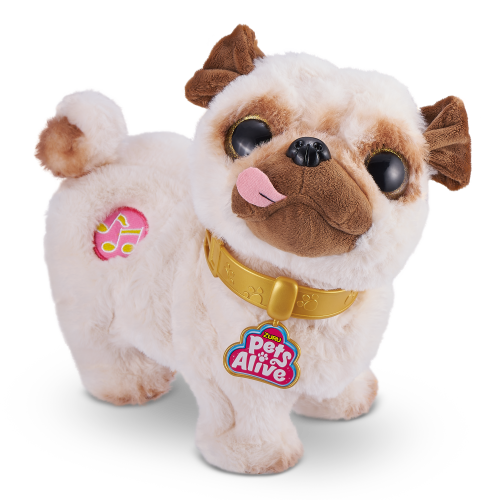 Pets Alive Poppy The Booty Shakin'Pug – Interactive Dancing Plush Puppy by ZURU
This Pug loves to Dance! Meet Pets Alive Poppy the Booty Shakin' Pug who's got hilarious moves and can groove, dance, twirl and shake her booty to 3 fun songs! With her cute realistic design and contagious energy, it's impossible for the whole family to not get up and dance with Poppy!
KEY FEATURES:
• POPPY THE BOOTY SHAKIN' PUG: Poppy's contagious energy and hilarious head twirling and booty shakin' will have the whole family up dancing and laughing for hours!
• 3 FUN SONGS FOR THE WHOLE FAMILY TO DANCE TO: Poppy has 3 fun songs she dances to! Each song lasts up to 15 seconds. Press the music button on her body and watch her come alive as you try contain your laughter!
• PERFECT GIFT IDEA: Poppy isn't just perfect for encouraging humour and laughter amongst kids and families, but it's also a great gift idea for big kids too! Ideal for bringing laughter and fun to birthday parties, Secret Santa's and any gathering!
• PACKAGE INCLUDES: 1 x Pets Alive Poppy the Booty Shakin' Pug, 1 x Instruction Manual, 4 x AA Batteries included
• ZURU PETS ALIVE: Pets Alive is our range of adorable robotic pets who bring fun and laughter to life! From Booty Shakin' llama's & Pugs to Flossing Sloths and Dancing Flamingo's – it's impossible to not get up and dance with Pets Alive!
PACK INCLUDES:
1 x Pets Alive Poppy the Booty Shakin' Pug, 1 x Instruction Manual, 4 x AA Batteries included
Easy to get to clean

This is so cute as my baby loves to squish his dog but he can pretty much do anything to this as it ain't real. Even thou it has batteries you can take it apart to get it clean.

I bought this for a friend who has 2 pug fur babies. They were very curious and excited to meet their new "friend.

I was able to find this "rare" item by using the online finder. Had to take a small drive to find a store that had Poppy...but it was worth it to have some fun with the pups!

Cool dancing pug

This dog is adorable! My kids love anything that dances and moves around so this toy was a hit in my family. Also it being a pug just makes it that much cuter!

Great buy A

This is so adorable! I am going to give it to my cousin for her birthday. She can't have a real dog so this is perfect

Great toy!

This toy is the toy of the year in my household, my girls are so obsessed I had to go back and buy two so they won't fight. It's great for any age ranges as my girls are separate ages but they still both have so much fun! I like that it's allows them to imagine and open up that creativity!

Perfect kids toy

The cutest little pug! Perfect for kids who love dogs, music and dancing, highly recommend

Humorous

This booty shaking pup is adorable! My 6 year old absolutely adores it and dances around with it constantly. I find it rather humorous.

So cute!

My nephew loves this toy! It's so much fun and super cute to watch him playing with it never a dull moment!

Booty shaker

This is so cute he dances all over the place my daughter got so many giggles and shakes out of playing with it

The cutest doggy out there

This is the cutest dog ever, I gave to my four year old granddaughter as a present for being good at school and not crying. She's in love with this puppy, by the way his name is poppy, He shakes his booty and dances to the three songs he has recorded, songs lasted approximately 15 seconds each. This adorable doggy will make an excellent gift for Christmas, birthday or any occasion. Very happy with my purchase. Highly recommended.

Nice fun toy

What a fun toy. It can shake in all different direction with 4 differ songs. Very lovely.

Whole family loves this

Our entire family had so much fun with this dog. It's the funniest thing and keeps us laughing and entertained. Love it

Hilarious and cute

My little girl loves dogs and because of allergies.. we can't have one. I got her this dog and it lit up her world! It actually moves around!! It dances and some of the songs it dances too crack us up!

Super cute

A super cute booty shaking puppy that my daughter loves. Has three modes and does three dances so cute and fun.

Hilarious

My toddler thinks this dog is the funniest thing she was ever seen. It does give my whole family a good belly laugh. Super cute. Would make a fun gift!