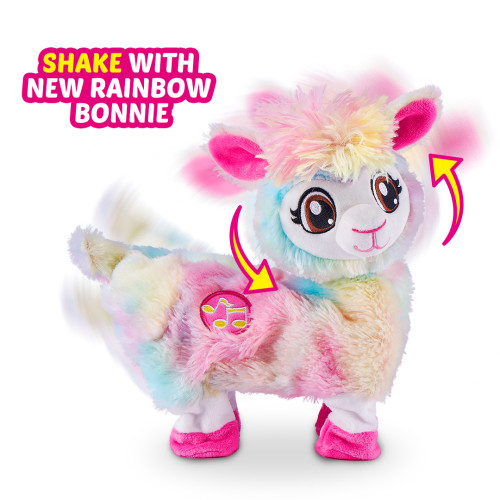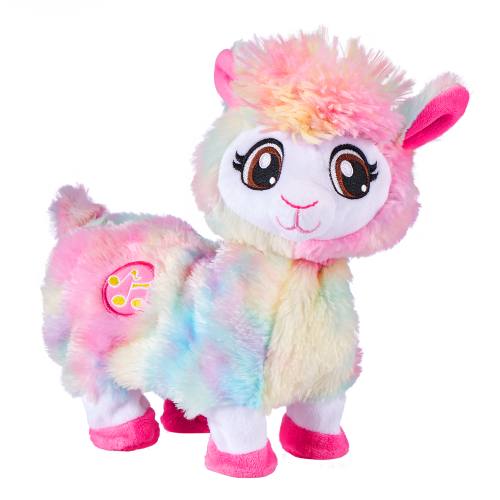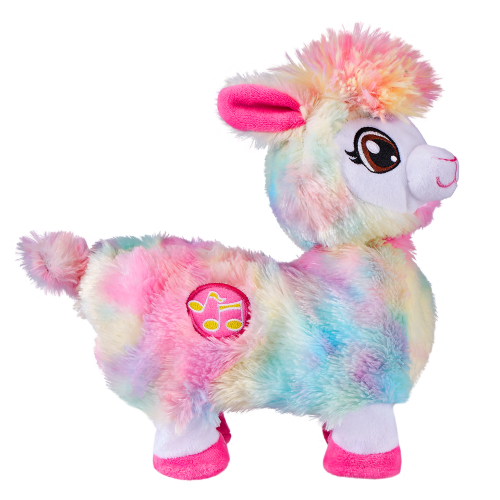 Pets Alive Rainbow Bonnie the Booty Shakin Llama Battery-Powered Dancing Robotic Toy by ZURU
Pets Alive Bonnie the Booty Shakin' Llama has had a fresh new makeover! 3 NEW epic songs, hilarious NEW dance moves and 360 spins! Can you Bop it like Bonnie?
KEY FEATURES:
• RAINBOW Bonnie THE BOOTY SHAKIN' LLAMA: Her funky personality will have everyone up dancing and laughing for hours. With her vibrant colours, and hilarious dance moves, Bonnie is sure to steal the dance floor!
• 3 NEW SONGS THE FAMILY WILL LOVE: Rainbow Bonnie has 3 NEW epic songs, New Hillarious Dance Moves, and NEW Rainbow Fur! Bonnie will have you bop-bop-Bonnieng for hours!
• HIGH-QUALITY ROBOTICS: Bonnie's robotic booty-shaken movement and head-spinning motions make it fun for family and friends to dance along with! Can you Bop it like Bonnie?
• PACKAGE INCLUDES: 1 x Pets Alive Rainbow Bonnie the Booty Shakin' Llama, 1x Instruction Manual, 4 x AA Batteries Included
• PETS ALIVE: Pets Alive is our newest range of adorable robotic pets. With countless ways to interact and play, these toys will capture your heart and instantly be your best friend. Pets Alive brings you fun and laughter at Unbeatable value!
PACK INCLUDES:
1x Llama 1x Instruction Manual
It moves and dances it's super cute, my grand daughters love it and dance like her now. Lol. It's worth the money!

Brought for my granddaughter she dances with it and it is so cute

Granddaughter loved her toy

A gift for my granddaughters. But we all love it!! So funny how she shakes her bottom!! The kids love dancing to it!

I don't know who loved it more. Me or our granddaughter. It's so adorable and absolutely hilarious.

Bought this for my 2 year old niece who loved it. As did my 65 year old neighbor, Steve. I have one too. It still makes me smile a year after it was gifted to me. Does go out of stock frequently so buy it when you see it!

Very cute and funny gift for my grand daughter.

I gave this little lama to my seven year old grand daughter for Christmas. She loved it! She carried it with her for days. Her Dad was rolling on the couch laughing when it started whipping its head around. The dancing lama was a win win!

I bought this as a gift for a young girl after my friend bought one for her daughter and once she showed it to us a demonstration, the entire room started dancing. It was so funny and that head roll from the Llama is ridiculous...it is hilarious. A toy that is worth many laughs. I totally recommend it.

I bought this for a 2 year old, more as a noisy gift to annoy her parents. It ended up being a big hit! She loved playing with the llama and all the adults got a kick out of it. I'm not sure how durable this will be, the neck feels a bit flimsy and I'm wondering how long it will be until the llama is swinging it's broken neck around

This llama is great. It's hilarious, and cute, and a fun gift/toy all around. I wish it had more songs to dance too, but either way it's still awesome. My daughter gets a kick out of it every time.

Our 3 year old niece absolutely loved it. She could not stop dancing!

Best Christmas gift! My little niece loves it. So did her older brother who is 7 and everyone thought it was hysterical.

Gift for 5 year granddaughter.

Funny, my 5 year old granddaughter will love it.