We pride ourselves on delivering the
highest quality products that deliver
exceptional play experiences.
We pride ourselves on delivering the
highest quality products that deliver
exceptional play experiences.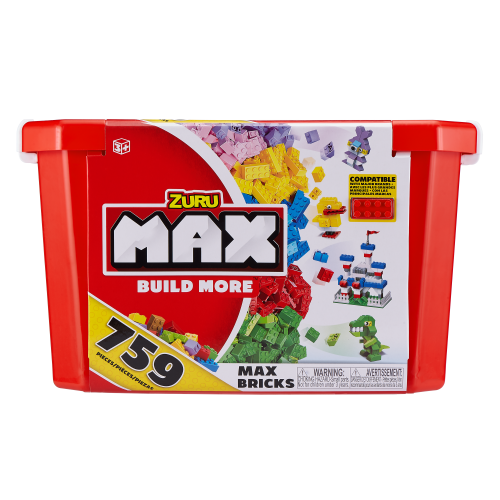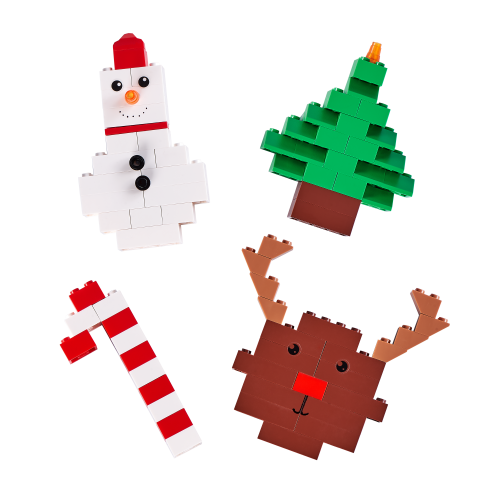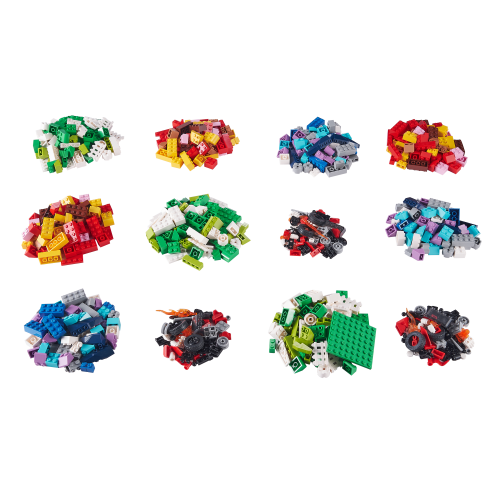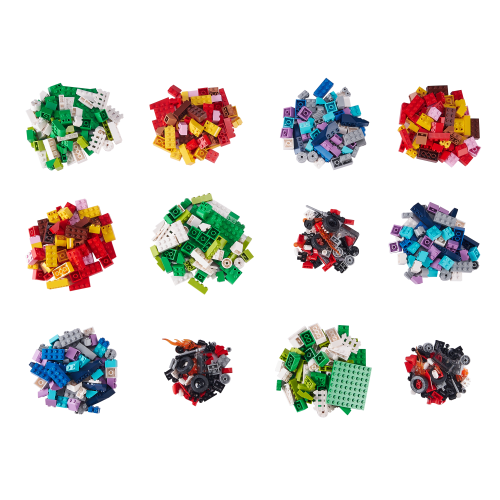 MAX Build More Building Bricks Value Set (759 Bricks) by ZURU - Compatible with Other Major Brands
Take it to the MAX with ZURU MAX Build More - the premium toy construction blocks that rock! MAX is giving you MAX quality at MAX value! Get 759 high quality bricks to create to the MAX! Available in various bulk packs and fully compatible with major building brick brands.
KEY FEATURES:
• DON'T SPEND MORE: Premium but affordable building bricks that allow for more building and more fun! Build More with Max! ZURU Max Build Bricks don't break the bank like other brands do and the Max brick packaging doubles as a bricks storage box.
• GROW CREATIVITY AND PROBLEM SOLVING SKILLS: Max Bulk Brick sets come with a unique Max Ideas booklet to encourage open ended play and imaginative, creative thinking. The booklet includes 20 different characters to build, with the ability to mix and match to let the imagination run wild.
• ADVANCED AND HIGH QUALITY: Bricks perfectly slot together and are fully compatible with all other major brick brands. Various colors, sizes and shapes all found in a convenient MAX Storage Box.
• PACKAGE INCLUDES: 759 x High Quality ZURU MAX Build More Building Brick Pieces; 1 x ZURU MAX Build More Ideas Book; 1 x ZURU MAX Build More Storage Box.
• BUILD MORE WITH MAX: Max Quality and Max Value: With Max Bricks, you can Build More by Inspiring Creative and Open-Ended Play. Max has the Same Quality as other brick brands but with MAX Savings!
PACK INCLUDES:
759x High QualIty ZURU MAX Build More Building Brick Pieces; 1x ZURU MAX Build More Ideas Book; 1x ZURU MAX Build More Storage Box
Quality bricks- hours of fun

My kids are loving the building blocks. There are enough for 4 kids to play without any arguing over one of them hogging all the pieces. These are much more affordable in my opinion than some of the other brands that have less pieces.

So many bricks for so little cost

We bought these because the competitor brand cost over twice as much for what looked to be pretty much the same thing. My kids definitely cant tell the difference, and to be honest they mixed them all up with their sets, and now I cant tell the difference either! Whats nice is that they are compatible with other bands, but at a fraction of the price.

Love these blocks

My boys live these blocks. They spent hours playing with them. It comes with a booklet to show how to build certain things. They have almost built all the designs from the book. I love the fact that it comes with a locking storage case. I would definitely recommend this to anyone who has kids who love building blocks. The price is great for what you get

legos

These work perfectly with the brand name legos, you can't even tell the difference. My daughter loved get a set like this so she could build whatever she wanted vs a specific set.

Mega Box of bricks set.

My 5 year old love it. Come with everything you need in one box, even include booklet to create multiple figure.

Great quality

These are really great quality and much more affordable than other brands. The plus side is that they came with its own storage case. My 4 and 9 year old loved these

Great toy

Loads of fun to assemble with a 5 year old. Id recommend that an adult assists at that age. Pieces fit together well and hold strong. Love the container that the bricks come in as well. Built in storage box!

Compatible bricks to other sets

My son is 3 years old and he is so much into Lego these days. He already has table which can transform into baseplate for lego and this building bricks set is a hit now.. this item supposed to be his Birthday gift but he found it in the closet. So I had to give it to him :) he is playing with it all day everyday. Very happy with the purchase

love the storage box

Overall quality is excellent. Easy clean up. It comes with book to lead child's creativity. Affordable price

Perfect pieces and a great value!

These bricks are amazing and won't break the bank. They variety was great and for the cost you won't find a better value. These are compatible with all major brands and my daughter loves them.

Let the imagination soar

Wow!!!! These are amazing !! They snap together easily and come back apart easily!!! So many cute thing to make . We have played with them for hours!!! That's all my 7 year old wants to do now!!

Great set comes with its own storage case !

This is a great set. I love that it comes with its own storage case. We ordered this package and a couple other from this brand and I am very happy w the quality. It is a perfect starter set for future engineers.

Affordable alternative to legos . It's pretty much the same thing! My kids were so excited to receive this as a gift and I love it too! It's high quality and the quantity vs the cost is so worth it! Would recommend it and choose this over legos !

Wow! Great price and compatible with our name brand collection. The colors are vibrant and the assortment is amazing. Highly recommend!

Great blocks!

Love these! I was skeptical initially because I am a huge Lego fan but these are great too! My kids really enjoyed some of the specialized blocks that were unique to this brand. I loved the suggested projects books with step by step instructions.