We pride ourselves on delivering the
highest quality products that deliver
exceptional play experiences.
We pride ourselves on delivering the
highest quality products that deliver
exceptional play experiences.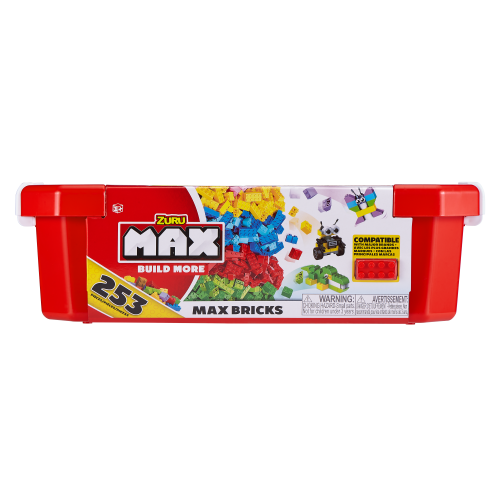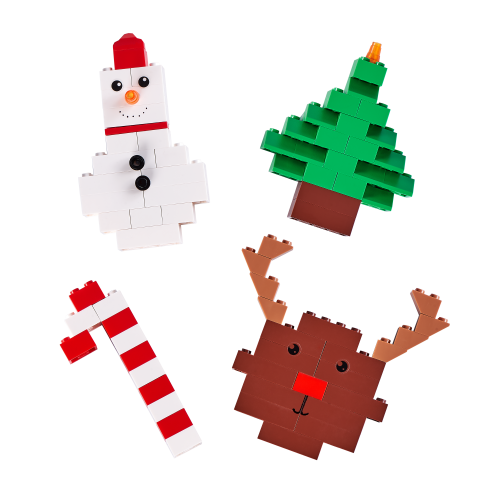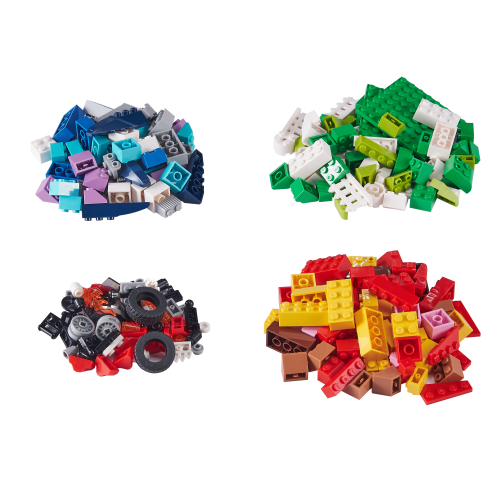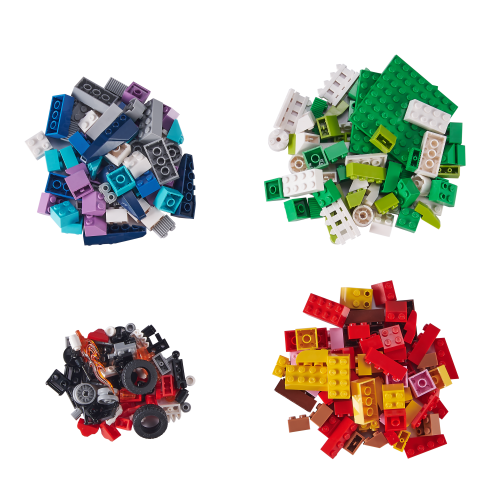 MAX Build More Building Bricks Value Set (253 Bricks) by ZURU - Compatible with Other Major Brands
Take it to the MAX with ZURU MAX Build More - the premium toy construction blocks that rock! MAX is giving you MAX quality at MAX value! Get 253 high quality bricks to create to the MAX! Available in various bulk packs and fully compatible with major building brick brands.
KEY FEATURES:
• DON'T SPEND MORE: Premium but affordable building bricks that allow for more building and more fun! Build More with Max! ZURU Max Build Bricks don't break the bank like other brands do and the Max brick packaging doubles as a bricks storage box.
• GROW CREATIVITY AND PROBLEM SOLVING SKILLS: Max Bulk Brick sets come with a unique Max Ideas booklet to encourage open ended play and imaginative, creative thinking. The booklet includes 20 different characters to build, with the ability to mix and match to let the imagination run wild.
• ADVANCED AND HIGH QUALITY: Bricks perfectly slot together and are fully compatible with all other major brick brands. Various colors, sizes and shapes in a handy MAX Storage Box.
• PACKAGE INCLUDES: 253x High Quality ZURU MAX Build More Building Brick Pieces; 1x ZURU MAX Build More Ideas Book; 1x ZURU MAX Build More Storage Box.
• BUILD MORE WITH MAX: Max Quality and Max Value: With Max Bricks, you can Build More by Inspiring Creative and Open-Ended Play. Max has the Same Quality as other brick brands but with MAX Savings!
PACK INCLUDES:
253x High Quality ZURU MAX Build More Building Brick Pieces; 1x ZURU MAX Build More Ideas Book; 1x ZURU MAX Build More Storage Box
Quality building bricks

My kids love these building bricks. They are sturdy and are compatible with our other building block brands.

Building Bricks - Great for travel

Love that this comes in a tub for storage because otherwise our building bricks are alll over the place! We bought this one to take with us as a travel set, so our boys can play with these in the hotel room on a rainy day, during quiet time, if they wake up early, or if they are waiting on us to get ready. We picked these bc of the great price, so we wouldnt freak out if a brick or two got left at the hotel. They are great quality and the kids love them!

Great Blocks Great Price

My kids love these blocks. This is the 2nd set we have bought. I love the price of these blocks. My kids loved the booklet included to show them how to build things. They have spent hours playing with these. I love the locking storage case that they come in. I would definitely recommend this to anyone who loves building blocks.

legos

perfect for parties and gifts. the small set has a book with it and you can create a bunch of different animals. my daughter loved creating them.

Beginner Set For sure.

Great beginner MAX box for any age. My 5 year enjoy it and now we getting the bigger set next time.

So much fun!

These were a hit for my kids, they've kept them entertained for hours at a time. Lots of pieces come with it I love the fact that it comes with its own storage case.

Great add on for Lego lovers

I have bought this set for my son who loves Lego along with bigger sets. He can play and build all days with those. Great sets and compatible with our existing LEGO Base plate table.

Makes great gift

We got this for my nieces birthday. It came just right in time. Fast shipping. She was amazed. It will keep her busy and will also supports her eager to build things together. Great present. Great toy!

great quality

Items are sturdy. My kids love to play with it. I love that it comes with storage box for easy clean up after play.

Great to have for extra building

Great addition to existing sets. My daughter is always looking for more and more pieces to add to existing sets and also to make her own creations. This box gives a great variety of colors and types and even has eye stickers. Overall a great value! They work with other branded building sets.

Amazing

Amazing!!! Such great bricks!!! So many fun things to do with them!

Perfect case and size for travel/carrying

I love that this set comes with its own storage box! This set is a great set for on the go. Perfect size for carrying or a starter set for future builders. The quality is great.

Love the smaller options. They also have a bigger set options and I got both and this could be a good stocking stuffer or a gift in general. It *looks* and *feel* more expensive than it actually it! A cheap alternative to legos!

Love the set!

Purchased the larger box recently in store and am so glad to be able to pick up another box of these. I love that they come with an box storage case as opposed to cardboard. Very organized and clean look.

We love adding to our building blocks collection! These are compatible with all our other pieces and for a great price! Beautiful, vibrant colors and durable pieces.