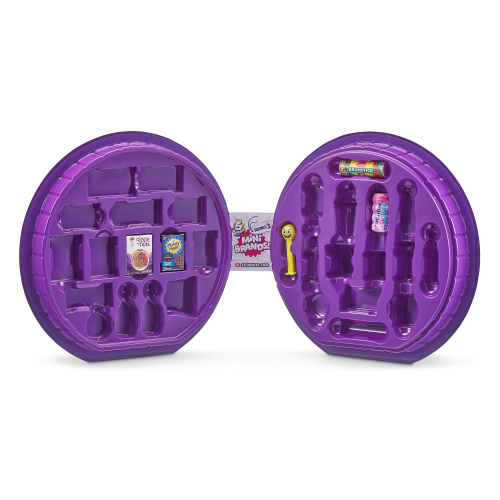 5 Surprise Mini Brands Series 3 Collector's Case Store & Display 30 Minis with 5 Exclusive Minis by ZURU
Collect, store and display your brand new favorite Series 3 Mini Brands with the Collector's Case. Each case stores up to 30 of the most iconic and realistic Mini Brands including rares and super rares too! Each case also comes with 5 Exclusive Minis that you can't find anywhere else, which will you unbox?
KEY FEATURES:
• 5 Exclusive Series 3 Mini Brands Included: Unbox 5 Mini Brands only found in the Collector's Case to complete your collection.
• Store, Display & Collect: Every Collector's Case has room for 30 iconic Series 3 Mini Brands for the ultimate collector's prize. Can you find them all?
• Mini Brands Series 3 features all new brands made mini: Unbox 100+ perfect mini replicas of brands like Teddy Grahams, Hershey's Chocolate Syrup, Holy Guacamole, Post Cereals and more!
• Complete your Collection: Find rare and super rare minis too!: Unbox some extra mini magic with Glow in the Dark and Metallic rare minis, and even Golden Super Rare minis to complete your collection!
• Complete the collection: Unbox more capsules to follow the guide and complete your iconic Collector's Case assortment.
PACK INCLUDES:
Each Collector's Case can hold up to 30 minis and comes with 5 exclusive mystery minis inside.
The grandchildren love it for their Barbies. The youngest keeps putting the pink donut in her mouth, though. Buy a box of pink donuts to stop this.

My niece loves the mini brands and wanted them for her birthday. She was obsessed and really enjoyed the case

Very cute and great for gift giving.

Brought this for my cousinCuteTravel sizeTinyI would recommend this for 8 and up

Perfect collector case as advertised. If you are into mini brands and can READ descriptions this was exactly what was expected

Product was received with the plastic container broken.

Satisfied

Flimsy made but serves its purpose

Buenisimo

Great toy very portable

My grandson was thrilled with the items and carrying case. Super cute and arrived on time!

I love these as much as my granddaughter does!These are extremely realistic miniature replicas of every day grocery products and toys. They are fun to place and arrange in a store. My granddaughter loves pretend shopping with them. I would highly recommend them.

Its going to be a great Christmas gift for our niece

Its going to be a great Christmas gift for our niece

I have my own mixed opinions about something like this coming out that is ending up being similar to shopkins hype. I bought them anyways and it is pretty cool to see the little products that you buy in real life. I just have no use for them but daughter will like them.