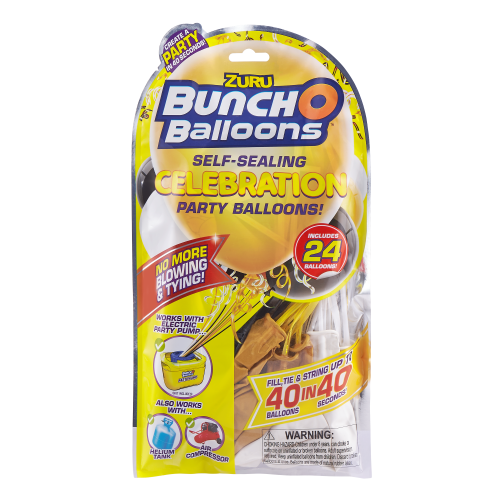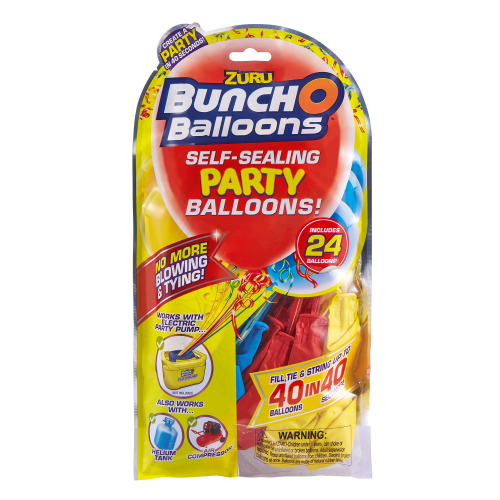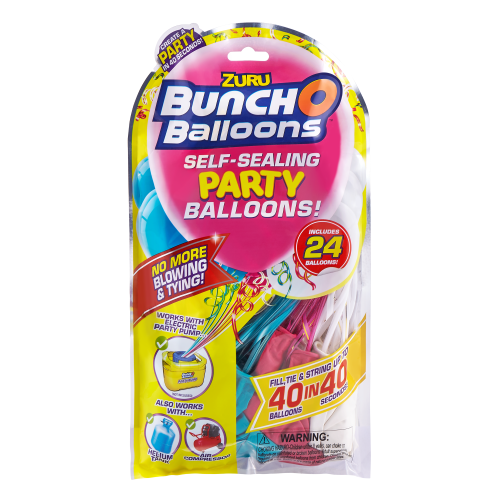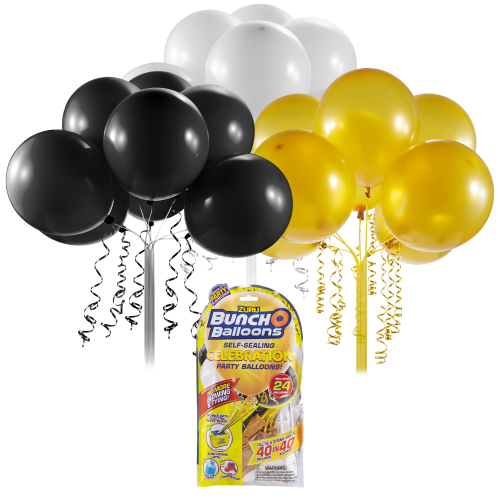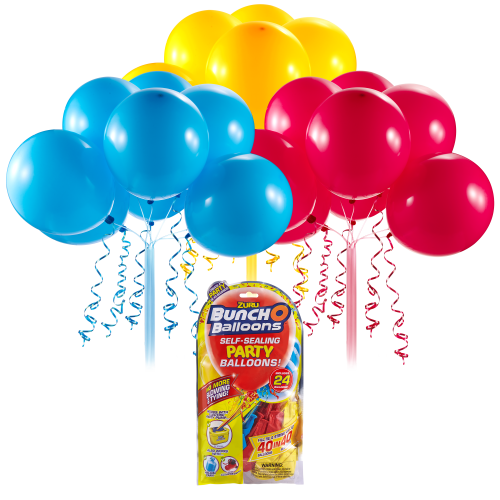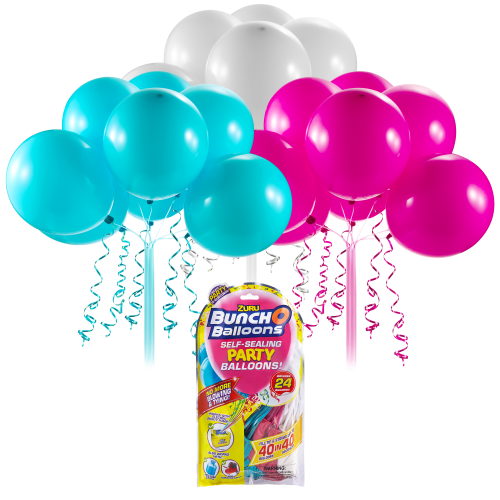 Bunch O Balloons Self-Sealing Party Balloons by ZURU
Save time and your breath with ZURU Bunch O Balloons Self-Sealing Party Balloons! Fill, tie and string up to 40 party balloons in just 40 seconds! There's no more blowing, no more tying and no need to add ribbon or string! Each Refill pack includes 24 party balloons and our handy helium adaptor which allows you to take your balloons to the next level by filling with helium! So join the party and choose Bunch O Balloons Self-Sealing Party Balloons, the brand that lets you Prep Less, Party More!
KEY FEATURES:
• PREP A PARTY IN 40 SECONDS: Fill, Tie and String up to 40 Balloons in 40 Seconds!
• RIBBON PRE-ATTACHED & SELF-TIE BALLOONS: High Quality Self-Sealing and Ribbons Attached 11 Inch Party Balloons. Perfect for Party Decorations.
• INNOVATIVE DESIGN: Revolutionary Patented Design That Lets You Save Your Time and Breath!
• SUSTAINABILITY: Bunch O Balloons stems and caps are now made from 100% certified and traceable, recycled plastic. The balloons pieces are made from 'natural rubber', a material derived from plants! Join us in unleashing a more sustainable summer.
• MULTIPLE USES INCLUDING HELIUM: Comes with helium adaptor to fill 8 balloons in seconds. *Electric Party Pump Needs To Be Purchased Separately
PACK INCLUDES:
3 x Bunch O Balloons Party Stems (24x Balloons) 1 x Helium Tank Adaptor
Thumbs up!

They were very easy to inflate!

Time saver

Excellent way to save time blowing up balloons. Super great for balloon arches and artsie balloon crafts

Picked the wrong color but they are quite pretty.

The best

These ballons are the best and they stay up long

Love it!

I love this! I bought several of these to use at a graduation party for my daughter and they worked wonderfully. Saved me so much time!

Love the ease of this project -

This is a perfect fix to parties -

Does not fit value of our electronic pump, but luckily with the manual hand pump.

Im a fan of these balloons. Ive used it for fun play in the house so far because my kids love balloons but I see it comes with an attachment for the helium tank and cant wait to try it out with that.

Bunch O Balloons

I like that this fast you can blow up more balloons you can use it for your arch or your Garland. I do not like the color combination I would like more colors more realistic combinations like red and gold, white red and black purple silver and teal. And package with single colors