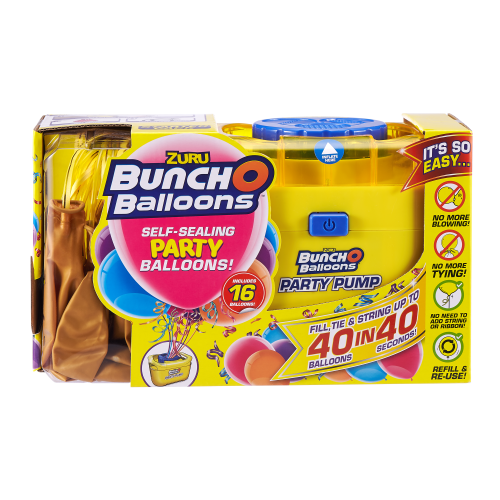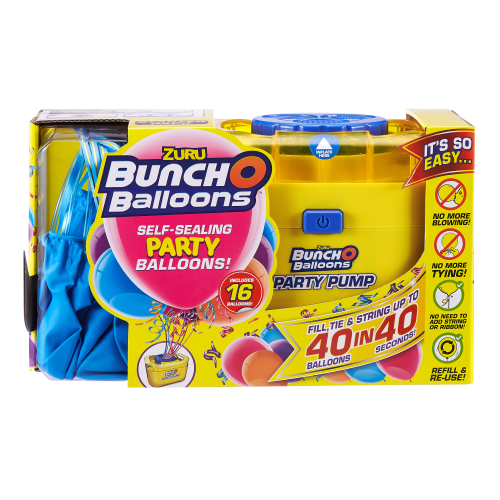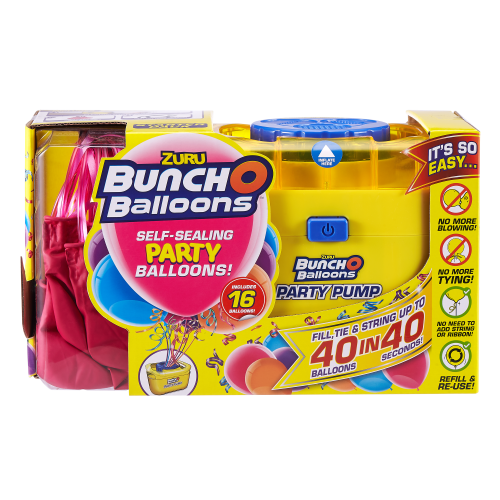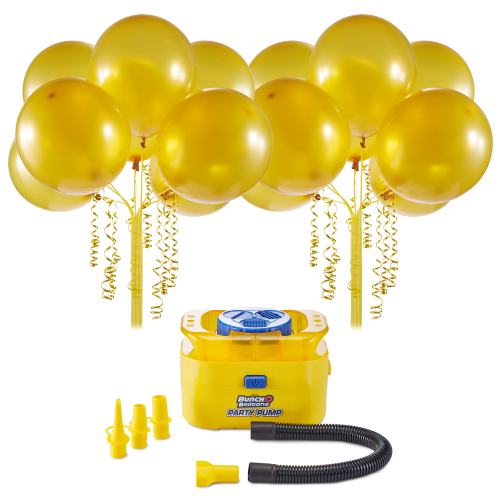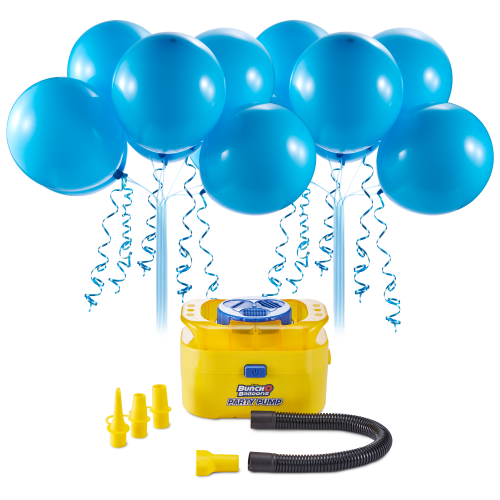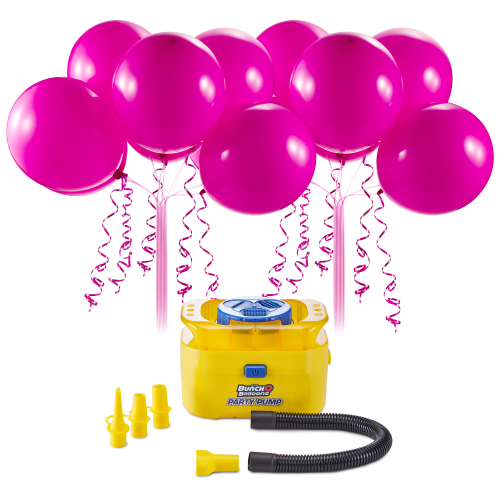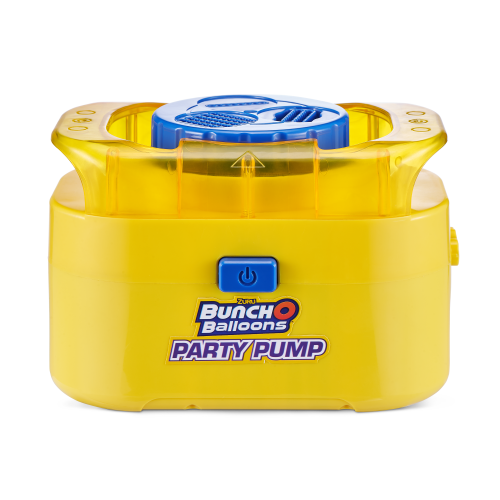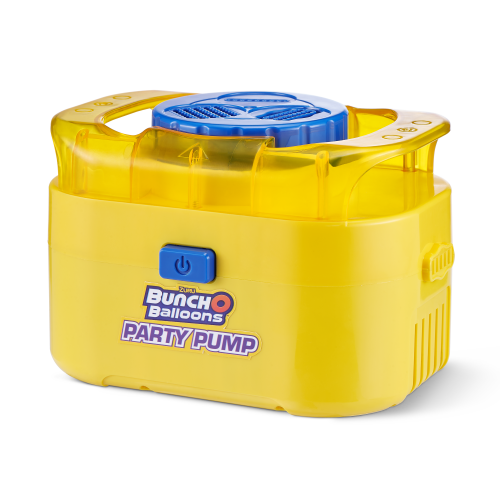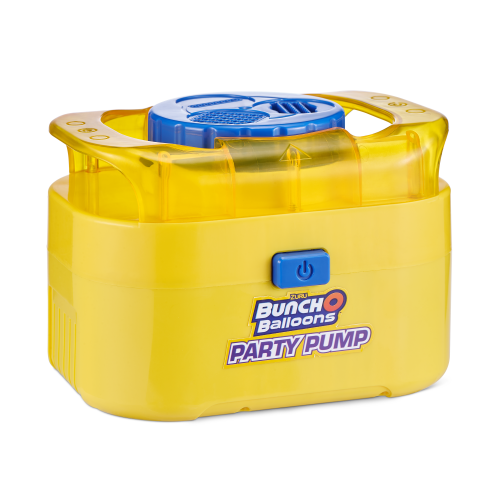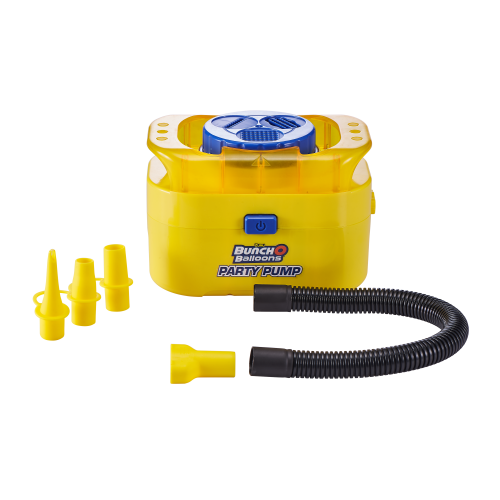 Bunch O Balloons Portable Party Balloon Electric Air Pump Starter Pack by ZURU
Save time and your breath with ZURU Bunch O Balloons Self-Sealing Party Balloons! Fill, tie and string up to 40 party balloons in just 40 seconds! There's no more blowing, no more tying and no need to add ribbon or string! Each Party Pump Pack comes with 16 party balloons and 1 x Inflatables Adaptor & Fast Fill Hose so you can inflate all your household inflatables and water toys. So join the party and choose Bunch O Balloons Self-Sealing Party Balloons, the brand that lets you Prep Less, Party More!
KEY FEATURES:
• PREP A PARTY IN 40 SECONDS: Fill, Tie and String up to 40 Balloons in 40 Seconds!
• RIBBON PRE-ATTACHED & SELF-TIE BALLOONS: High Quality Self-Sealing and Ribbons Attached 11 Inch Party Balloons. Perfect for Party Decorations.
• INNOVATIVE DESIGN: Revolutionary Patented Design That Lets You Save Your Time and Breath!
• SUSTAINABILITY: Bunch O Balloons stems and caps are now made from 100% certified and traceable, recycled plastic. The balloons pieces are made from 'natural rubber', a material derived from plants! Join us in unleashing a more sustainable summer.
• MULTIPLE USES: Comes with inflatables hose adaptor to fill household inflatables and water toys too.
PACK INCLUDES:
1 x Bunch O Balloons Party Pump, 2 x Bunch O Balloons Party Stems (16 Air Balloons) 1 x Inflatables Adaptor & Fast Fill Hose
Well worth the money

Best Purchase I have ever made. Blows up balloons quickly as easily. Easy to use. You do have to be careful that you control the button so that you dont over inflate your balloons but the button makes it easy to do that.

Loved it!

This was so much help when I was in a hurry trying to get last minute things ready for my daughters party. Takes so much time off your hands and make it so easy to use.

Fast and simple

It is so fast and simple to blow a bunch of balloons in no time! Great invention!

Genius!

This is such an time saver! It literally blows up the balloons in seconds. The best part is there is no sore fingers from tying the balloons. One of the best purchases I've made in awhile!

Save so much time

This machine is a game changer. It saves so much time by being able to blow up a bunch of balloons all at the same time. It comes with the valve if you want to use helium.

Party city who?

No more need for party city when you can do this at home! 40balloons in 40 seconds!! Tied and ready to go! We used this for my daughters bday and it was a game changer!

Baloon bundle

Absolutely a life saver. If you have a party and want to save yourself the money and headache of buying balloons getting them to the car and maybe losing a few. I highly suggest this product. Its fadt fun for kids and uses natural air it has 4 settings and balloons can be blown individually or in a bunch!

No more hurt ears!!

Finally no more blowing up balloons!! My ears hurt so I always make my husband blow them up but now I don't need to! So easy and you get tons blown up really fast! Lifesaver for parties!

Great for year round balloons

My kids love to play with balloons year round. I got this for my son's birthday. it definitely did not disappoint. The machine is awesome. Definitely a timer saver for parties. Easy to use and no more blowing up balloons by mouth.

Fast pump

Awesome air pump just in time for my baby's birthday

Finally bought it!

I have been wanting to buy this for a long time, finally did. Did not disappoint. Very convenient if you have a kid who loves balloon all year round. Fast and easy and no longer blowing each balloon.

We love this machine so much. It is great for any party you are having. It is very easy to use. My little girl loves helping with them. I love you can buy refills for it as well.

Better then manual labor

Love this machine - better than manually blowing up balloons

Functions accurately. You get to choose different size to blow the balloon. Awesome machine

Make your party look like a professional did it.

Makes blowing up balloons 100time easier. Love it.