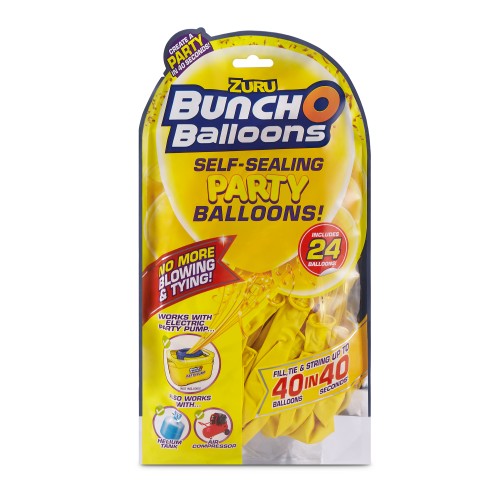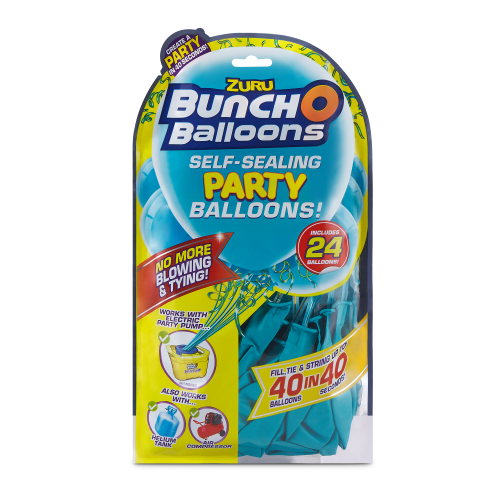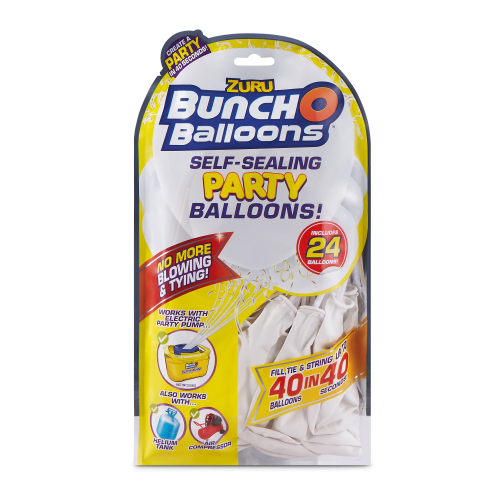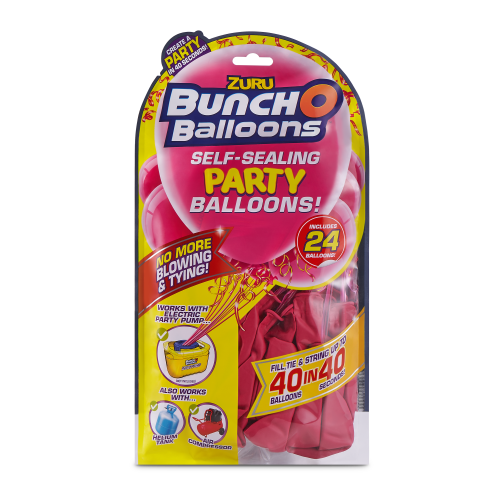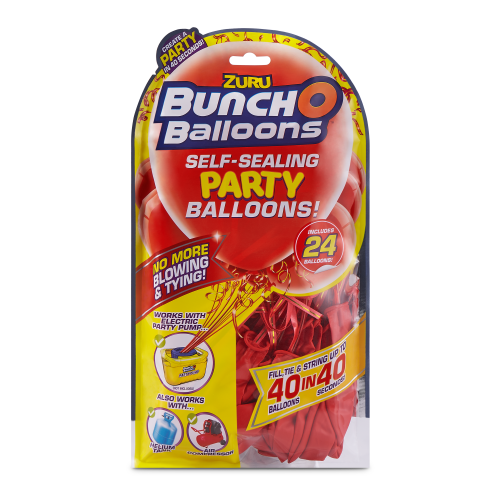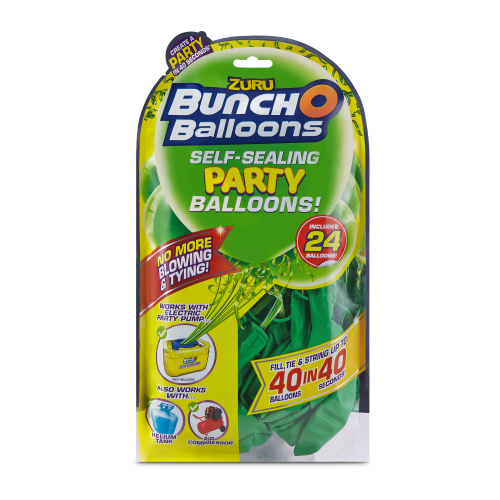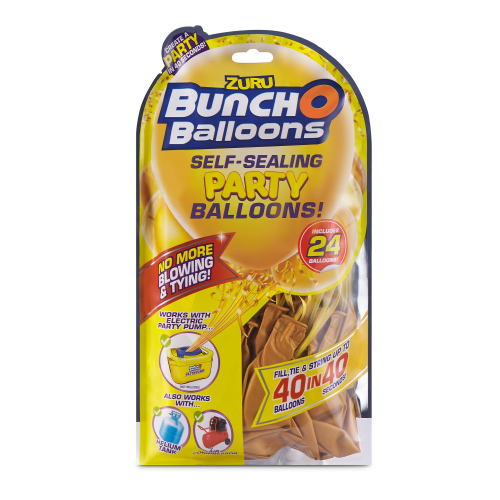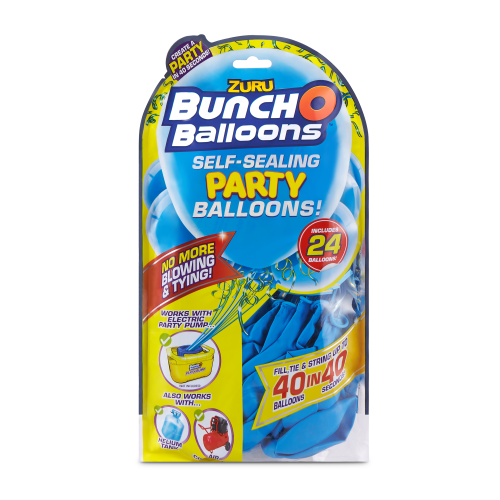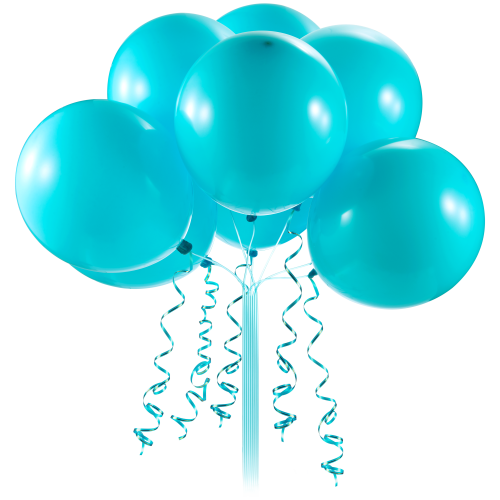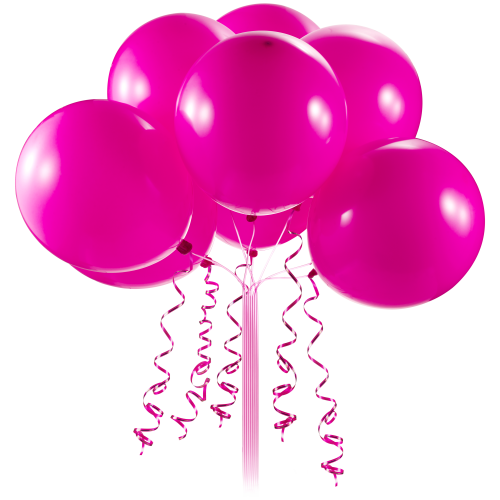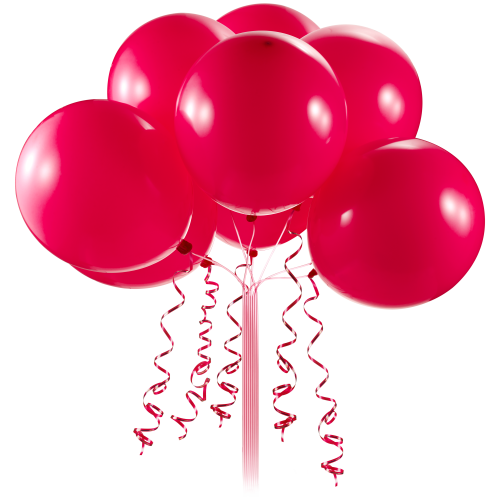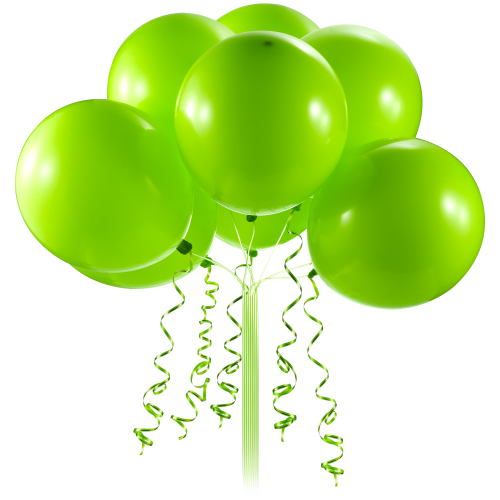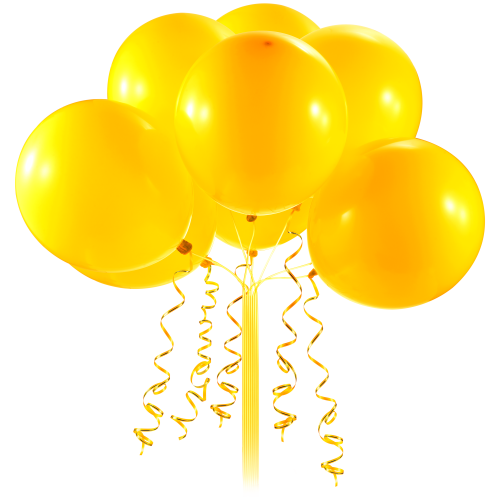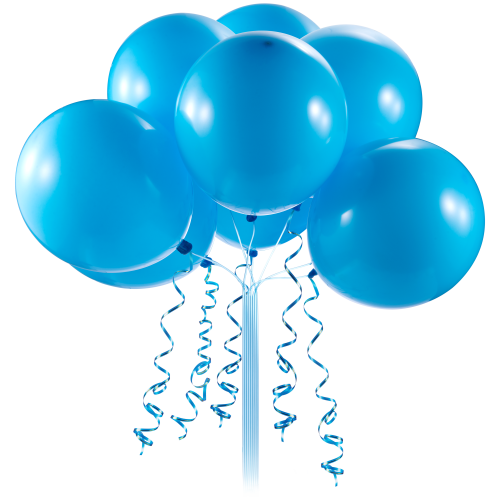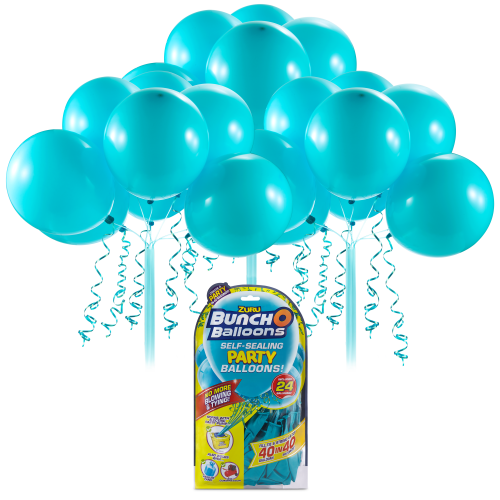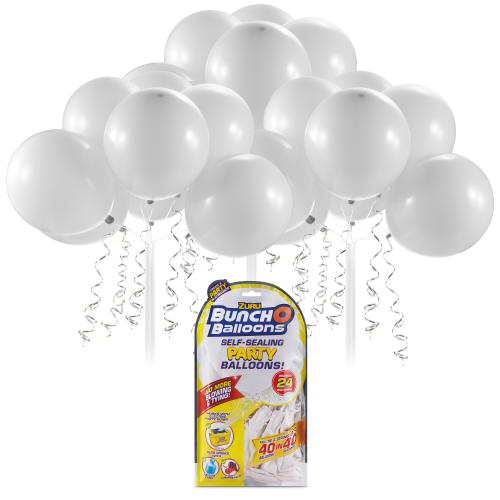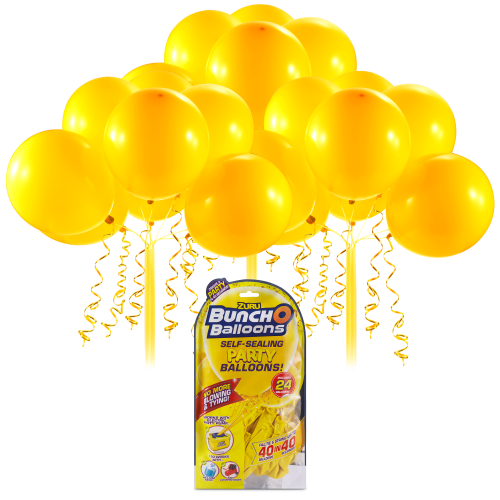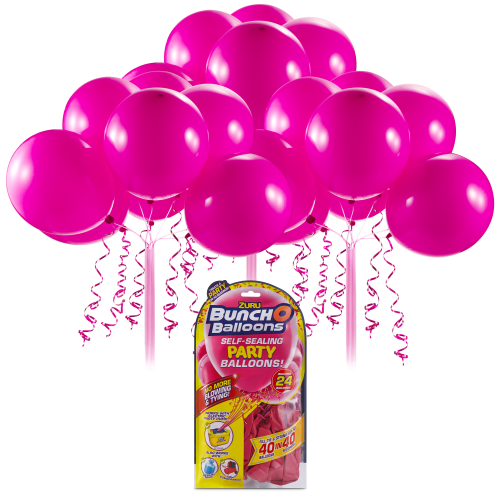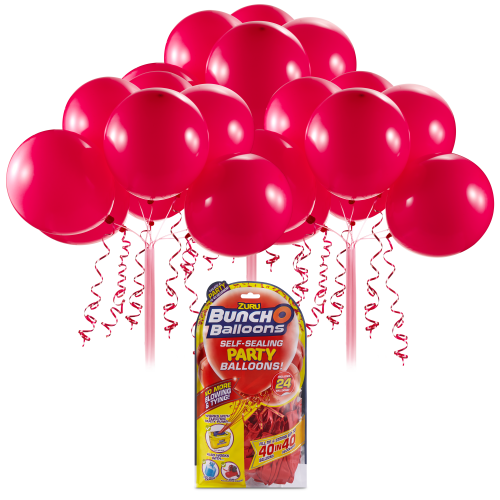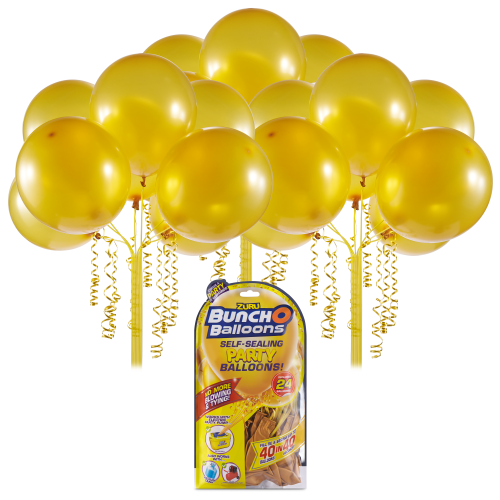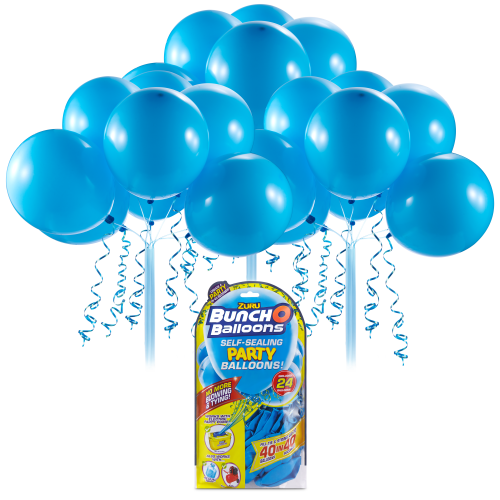 Bunch O Balloons Party Self-Sealing Balloons by ZURU
Save time and your breath with ZURU Bunch O Balloons Self-Sealing Party Balloons! Fill, tie and string up to 40 party balloons in just 40 seconds! There's no more blowing, no more tying and no need to add ribbon or string! Each Refill pack includes 24 party balloons and our handy helium adaptor which allows you to take your balloons to the next level by filling with helium! So join the party and choose Bunch O Balloons Self-Sealing Party Balloons, the brand that lets you Prep Less, Party More!
KEY FEATURES:
• PREP A PARTY IN 40 SECONDS: Fill, Tie and String up to 40 Balloons in 40 Seconds!
• RIBBON PRE-ATTACHED & SELF-TIE BALLOONS: High Quality Self-Sealing and Ribbons Attached 11 Inch Party Balloons. Perfect for Party Decorations.
• INNOVATIVE DESIGN: Revolutionary Patented Design That Lets You Save Your Time and Breath!
• SUSTAINABILITY: Bunch O Balloons stems and caps are now made from 100% certified and traceable, recycled plastic. The balloons pieces are made from 'natural rubber', a material derived from plants! Join us in unleashing a more sustainable summer.
• MULTIPLE USES INCLUDING HELIUM: Comes with helium adaptor to fill 8 balloons in seconds. *Electric Party Pump Needs To Be Purchased Separately
PACK INCLUDES:
3 x Bunch O Balloons Party Stems (24 Air Balloons) 1 x Helium Tank Adaptor
Time saver

Excellent way to save time blowing up balloons. Super great for balloon arches and artsie balloon crafts

Beat birthday decorations!! So quick and easy

We bought the machine four years ago and every year on our daughters Birthday we buy a few packs of balloons and decorate the banister. Takes 3 minutes to fill 6 bunches of balloons!!

Easy party decor

Libe the ease of these balloons for decorations.

Balloons blown so fast and easy

Great invention to blow up and tie balloons so fast.  I used it with my balloon machine that blows air so all these balloons were blown up in less than one minute. The package comes with a conversion to use with a machine that blows air or helium tank.  This makes birthday party decoration so easy.

Great product!

Súper fast and easy to fill and had them ready for my daughters birthday party, love the fact that you can get them all filled and ready to go when you're in a rush.

Made my photoshoot so much easier

Super easy to use with the air pump. It made my photo session alot easier to set up for. Being able to do so many balloons at one time saving not only time but my fingers and the colors were bright and vibrant.

Super easy to fill

These are super easy to fill. Hold air for up to a week. And the hot pink and blue are spot on to a Barbie theme photo shoot.

Bunch of balloons in no time!

Inexpensive, bright colors balloons! I bought refill with a pump and it is amazing how fast we can get a bunch of balloons!

Best balloon system

Made the party a real balloon party with the quickness that you can inflate this many balloons at one time. This is quick, saves you a lot of time, turns out exactly how you would want it to look.

Love it

Omg we love this ballons!! My daughter and son filled these ballons up on a random day and the look so nice

Beautiful

The colors are so vibrant! Easy to use with the pump. Blows up in seconds and ties themselves. So awesome!

Time Saver

I bought these for my daughter's 7th birthday. She loved the bright colors. I used the helium adapter, so I was able to fill 8 balloons at once. What a time saver!!! It made preparing for my daughter's birthday a little less stressful. I didn't have anxiety and felt like I was able to enjoy watching her have fun.

money saver

saves tons from having to purchase helium tanks for my kids party.

So much faster

I wish I came out with something like this. You can blow up all the balloons at once and its already tied to the string. This is much needed for birthday parties.

Easy and quick!

This concept is one of the best! You can blow up 20 balloons at once using a hand pump, helium tank or machine and all the balloons just like the water balloons seal. It's quick and easy. Another genius idea Zuru. Thanks.