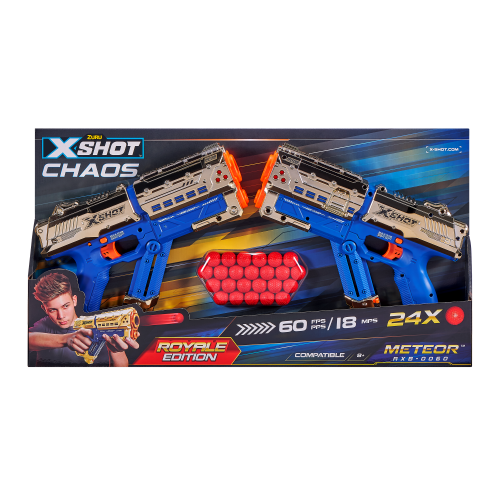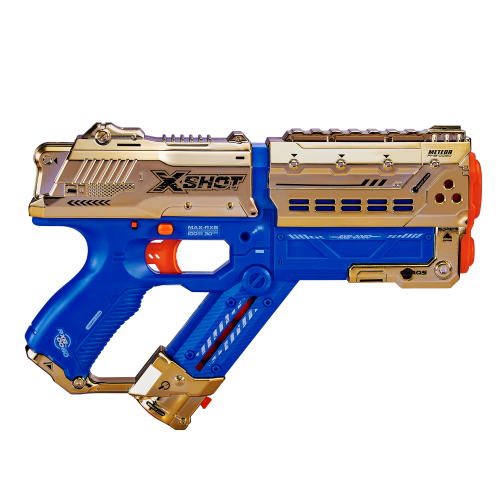 X-Shot Chaos Royale Edition 2PK Meteor Round Blaster (24 Rounds) by ZURU
The Chaos Royale Edition is finally here with its epic golden blasters. The handy Royale Edition Meteor blaster delivers maximum performance and accuracy combined with a unique gold featured design. Each blaster holds 6 maximum performance rounds and the pack includes 24 of them. Enjoy round-blaster fun at its best with X-Shot.
KEY FEATURES:
• X-SHOT CHAOS PERFORMANCE: These spherical high-impact rounds reach speed levels of up to 100ft/30m per second.
• X-SHOT CHAOS ROYALE EDITION: The premium gold blaster range consists of unique blasters within the category.
• HIGH-QUALITY DESIGN: The X-Shot Chaos Meteor holds 6 rounds, has a slide primer and performs with unbeatable accuracy!
• SUPERIOR FIRE POWER: X-Shot Chaos round blasters deliver maximum performance in the round blaster category.
PACK INCLUDES:
2x X-Shot Choas Golden Meteor Blaster, 24x X-Shot Dart balls
Truly beau-tea-ful and adorable!

Get ready and prepare the table! Your little one would absolutely will spend lots of time on playing this beau-tea-ful toy! There are so many surprises that the kids will surely love. My niece truly had so much fun playing with this!

We love our itty Bitty pretty's Tea Party surprise

My daughter absolutely loved her itty Bitty pretty's Tea Party surprise. She got Sipper-Ella. She can't wait to start collecting more! She loved the whole idea of getting all the little accessories for the doll!

So adorable

My daughter absolutely loved these! It keeps them entertained opening the blind bags and getting all the little surprises. The dolls are adorable.

Cute little teacup set with a lot of surprises. My daughter absolutely loves them. Keeps her busy for hours. Quality is great. Highly recommend!

Glitter doesnt rub off

Great little doll with glitter that doesn't rub off on everything!

So much fun

Most adorable little toy ! Super fun for young girls - keeps them busy for a while ! My niece wants more ! Perfect gift idea and so affordable!

Little cutie itty bitty tea party

Super cute mini tea party ,complete with little cakes that you can shaped it yourself and cakes decorations that go on top of it. My daughter call it itty bitty tea party