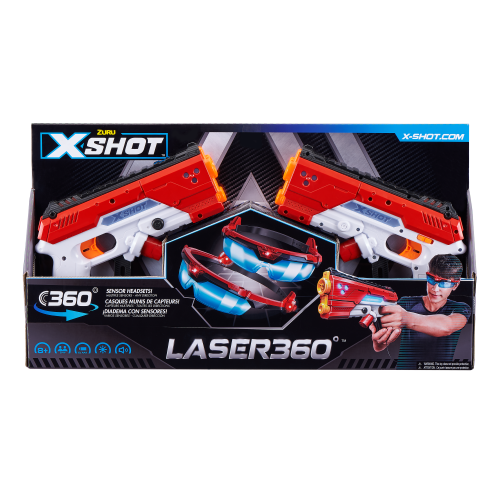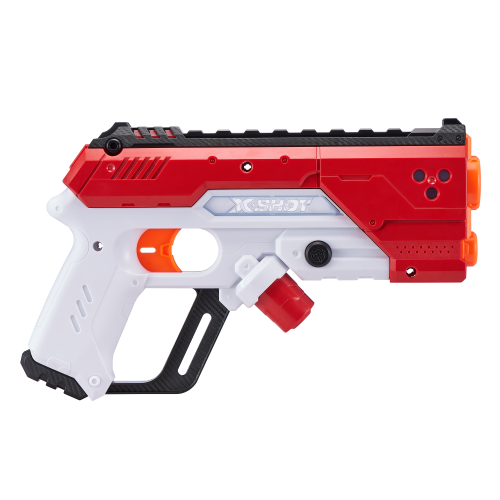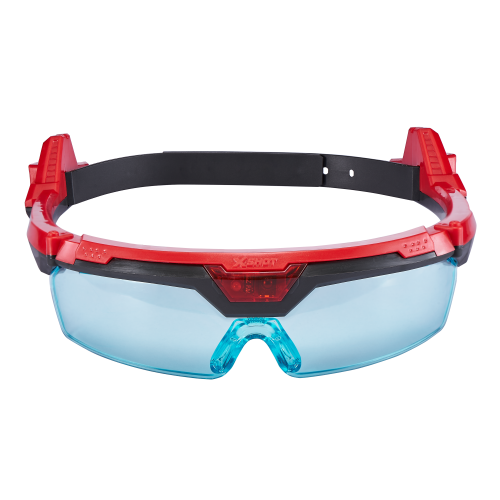 X-Shot Laser360° Double Laser Blaster Pack (2 Laser Blasters, 2 Goggles) by ZURU
X-Shot Laser360° brings the ultimate laser tag experience and takes blasting fun to the next level. Multiple sensors integrated in the goggles of the players create a 360° infrared signal around the head and body of the player and enable you to tag them from any direction.
KEY FEATURES:
• ULTIMATE LASER EXPERIENCE: Unlike any other laser blaster brand X-Shot Laser360° delivers maximum game-play fun with innovative 360° infrared technology integrated into the goggles.
• NEXT LEVEL PERFORMANCE: X-Shot Laser360° comes with 2 laser blasters and two 360° goggles. An unlimited number of players can be split in up to 4 teams. Laser blasts can reach up to an incredible 180ft.
• TRUE INNOVATION: The goggles withing the Laser360° packs have three integrated sensors creating a infrared halo around players. This innovation makes it impossible to cheat during laser battles and make the laser blaster experience as realistic as possible.
PACK INCLUDES:
2x Laser360° Laser Blaster
2x Laser360° Infrared Goggles
Fun interactive toy.

Fun toy. We got my son a set of two for Christmas but then went back and bought 2 more so more people could play. Had a blast running around trying to tag each other.

Good investment

My 12 year old grandson had a blast with this! It works well and is easy to use.

Should I get it

I am about to buy this item like if I should dislike if I should not

The boom

I bought these for my grandsons birthday. They live them. They like you can pick what kind of I believehe said annimo you can use. And it will let you know how many times you've been hit.

Birthday present

I bought 4 for my husband and 2 sons and we loved them. Had so much fun. We were even able to play with them outside in the sun.

Yay! Neighborhood boys playing outside!

Ordered 2 sets for my son (he purchased with Christmas money). We ordered two so he could play with all the neighborhood boys. THEY LOVE THEM!! And so do all us parents!! It gets them outside playing "Fortnight" instead of playing the video game. They love the fact they they can play on teams or individually. And they are sensitive enough to work from across our yard, and our lot is large... just shy of an acre. So glad I was able to talk him into making this purchase.

Easy

Easy to use, easily adjustable to different size players

Fun and entertaining

Bought three of these at different times. Two for gift and one for my kids. Kids love this gun. Fun to play and entertaining, you can even play as a group. Bought one for sons friend who's also a neighbor, he brings his guns and our kids play together. Recommend this product for kids.

Lasershot

Works well and loads of fun

Super fun!

Purchased 2 sets of these guns for grandkids. They love them. Highly recommend.

Excellent product

I bought this for my grandson for Christmas. He loves it. It is so well made and easy to use. It lets you know when you hit your opponent and when the game is over

CHRISTMAS GIFT

My 8 yr.old, myself, and my husband LOVE these! ....Thinking about another set so the three of us can play at same time--fun inside, outside, dark is really fun

The kids loved them

The kids loved them

Fun laser gun set.

The kids like this and it is so much better than finding the Nerf bullets lying around all over the place! We bought one set and will buy again. Love that it can accommodate more than just two guns.

Great game

So much fun!